DISCOUNTED LIFT PASSES and FREE DELIVERY SERVICE
Since the first day we opened, we have offered our guests discounted lift passes available with free delivery to your accomodation on arrival giving reduced rates on public prices for all passes pre-ordered through us. This includes further reduced rates on the already great FAMILY passes, where all adults over 13 years pay just the child rate.
EXAMPLE: 6 day Family Paradiski pass, Mum = 238€, Dad = 238€, Child 1 aged 17 = 238€ and Child 2 aged 16 = 238€ so Total Price 952€ saving you 192€
We will always calculate the best deal for your group once we have all the information required including the ages, type of pass and number of days for each person.
The advantages are:
1. You get the best rates available.
2. You don't have to face a long queue in the cold.
3. Hasslefree – you pay either in advance or on arrival by credit card or euros cash.
4. Your passes are ready and waiting for you in time for your first day on the slopes.
5. You can be out on the slopes within 30 minutes of your arrival in resort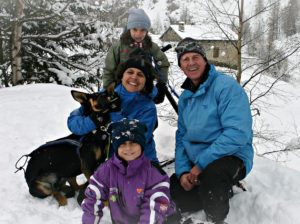 Choose your ski area:
Peisey Vallandry & Les Arcs – There are 210 kms of piste to explore on the Les Arcs side, which is is plenty for beginner skiers, intermediate skiers and those on a budget. There is a free upgrade allowing you to cross the Vanoise Express cable car to ski for one of your ski days in La Plagne with this lift pass, applicable to all passes for a duration of 3 days or more.
Paradiski Unlimited – This pass gives you unlimited access to the entire ski area of Les Arcs & La Plagne, a total of 425kms of piste and unlimited off piste opportunities. Ideal for good to advanced skiers or those who like to put alot of kilometres under their feet.  This pass also entitles you to ski an extra half day on ARRIVAL day from 12:00 midday (for all passes of 6+ days or more). Be sure to inscribe your lift pass start date as your first FULL days skiing and you will automatically get the MORNING pass for your arrival day added. For example order a minimum 6 day pass, valid from Sunday to Friday inclusive, and you will get your Saturday arrival day morning added for FREE.
Full area Paradiski passes also come with numerous advantages:
Access to 'priority lanes' on five of the most popular lifts across Les Arcs including the Varet cable car
A free breakfast if you take First Tracks on the slopes with piste security staff.
One day Cross-Country skiing tryout with equipment hire included.
Entrance to Grotte to Glace Ice Cave in Arcs 2000
Buy one get one free sledge rides at both the Mille8 and Rodeo Luge toboggan runs in Les Arcs
Reduced price at the Cinema
Ages:
Adult 13-64 years, Child 5-12 years (infants under 5 years FREE of charge), Senior 65-74 years (Over 75 years unlimited Paradiski pass 1-15 days = 10€)
 

LES ARCS Area
(incl Peisey Vallandry)
with 1 day in La Plagne

Full PARADISKI Area
includes FREE half day pass
on arrival day from 12:00

Duration

Adult >13

child 5-12

senior 65-74

Adult >13

child 5-12

senior 65-74

6 DAYS

  252 €

201 €

201 €

286 €

229 €

229 €

7 DAYS

  292 €

234 €

234 €

319 €

256 €

256 €

8 DAYS

  333 €

266 €

266 €

364 €

291 €

291 €
2, 3, 4 and 13 day discounted passes are also available see the full price list detailed in the SUMMARY TABLE.
Family Passes:
Available for both Les Arcs and Unlimited Paradiski (Les Arcs & La Plagne) for 2 adults and 2 children (up to the age of 17 years inclusive). An extra child can be added for families with 3 or 4 children.
Les Arcs Family Pass 2 adults and 2 children
6 days 840 euros (Extra child: 210€)

7 days 980 euros (Extra child: 245€)

8 days 1112 euros (Extra child: 278€)
Paradiski Unlimited Family Pass 2 adults and 2 children
6 days 952 euros (Extra child: 238€)

7 days 1072 euros (Extra child: 268€)

8 days 1216 euros (Extra child: 304€)
Please note that if an extra child is under 13 years it is cheaper to add them on as a single child rather than add them on the family pass.
Special Offers:
X-mas and Easter Kids ski for FREE
From 22/12/2018 to 28/12/2018 and 13/04/2019 to 27/04/2019
An under 12 year old pass FREE when you buy 2 adult passes 6 or 7 days for either Les Arcs or Paradiski
As usual, there are special rates on ski passes on the opening week 15/12/18 to 22/12/18 in Les Arcs and the last week 20/04/19 to 27/04/18 for Les Arcs and Paradiski. Please contact us for the prices if you are coming that week.
*The Vanoise Express Cable car linking Les Arcs to La Plagne opens on Sat 22 Dec 2018 and closes on Sat 27 April 2019
How to Pay:
Pre-order your passes by filling out our online booking form. Your discounted passes will be waiting for you when you arrive and you can pay for them in the comfort of your accommodation in euros cash or by credit card.
Important notes:
Proof of age is required for all children under 5 yrs who receive a FREE pass and seniors over 75 yrs (copy of official document e.g. Passport) . Please email proof of age in advance to Mark at info@go-alpine.co.uk YOU DO NOT NEED PHOTOS for passes
It is possible to purchase an extension Paradiski pass for the day if during your holiday you fancy exploring a bit further however it works out slightly more expensive than buying in advance!
YOUR HOLIDAY
SKIING & SNOWBOARDING